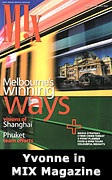 YS Productions is founded and headed by Yvonne Suberamaniam who has been in the event business for over 15 years. YS Productions' area of expertise includes corporate client management for all forms of special events ranging from corporate meetings to incentive events and staging of gala, awards and launch events.
YS Productions experience throughout Asia Pacific brings to you a single stop solution for independent event production with unlimited resources in hotel and destination selection, ground services, technical design and production and in creative brand design; blending your brand with your event.
YS Productions forte.... every show is staged with an artistic eye and flair and executed with meticulous details. Each show is produced with that added touch of finesse and class.
Our Community Service
At YS Productions, we strive to give back to the community through the generosity of our clients and creatively recycling or effectively using furniture or products that are created for any event or project to a suitable cause.